An easy and simple crochet woman hood based on Autumn forest theme for beginners to try. This crochet forest girl hood has a little sweet but wild scent, with strong colors choice you can easily create a taste of punk rock look.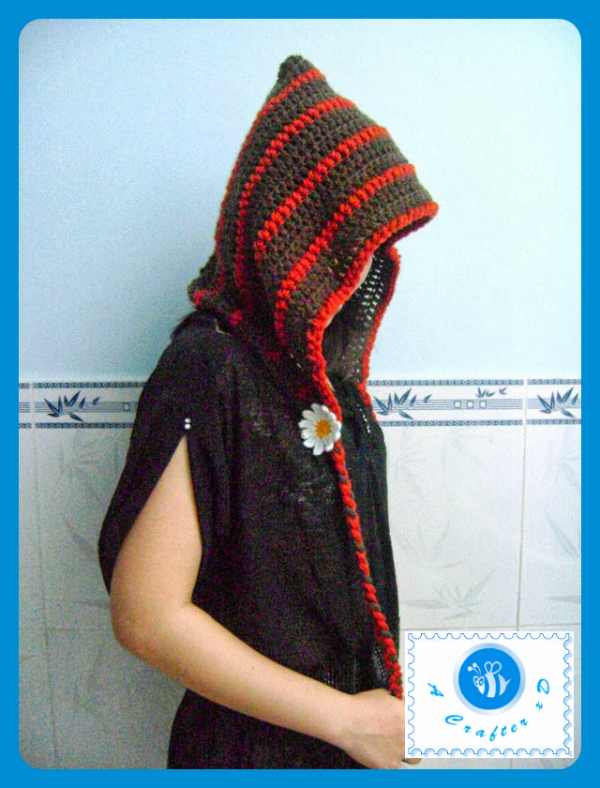 Click here to <3 this pattern on Ravelry
Materials: (I used)
8mm crochet hook
Worsted weight yarn: moss green and autumn leaf colors
Scissors
Yarn needle

Note: This is a free size pattern, adjust foundation chain,  increase or decrease the rows to get the size you wish.
Special stitch used: double single crochet
Instruction: insert hook into next stitch, yarn over and draw through one loop, you'll have 2 loops on hook. Yarn over again and insert the hook back into the same stitch. Yarn over draw another loop through the stitch, you'll have 4 loops on hook. Yarn over and draw through 4 loops at one time.
Hood:
Start with moss green yarn, crochet a chain of 75 cm, dc into 3rd chain from hook, dc across.
R1: turn, ch 2, dc into the same stitch, dc across.
(I used this technique because I don't like the gap when you crochet ch 3 as 1st dc for every turn)
R2 and R3: same as R1
R4: change to autumn leaf color yarn, ch 1, turn, double single crochet across.
Repeat 5 times from R1 to R4 (fasten off)
Seam the back with sc (wrong side)
Optional: hdc around the bottom border of the hat for a smooth look.
Make 2 braids with yarn.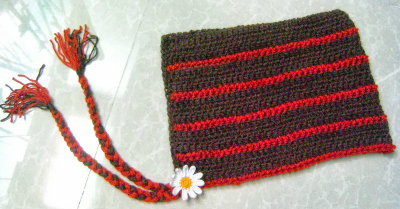 For the daisy applique, visit this post: http://beacrafter.com/crochet-daisy-applique/ (I used the small one)
Happy crocheting xD

(Visited 14,439 times, 2 visits today)