A simple and fast diy project to try with scrap yarn – crochet dog toy. You just need basic crochet skill and some colorful leftover yarn to create this fun and inexpensive toy for your paw-friends. Handle for hand and big knot at the other side for jaw – let's play "Tug of War" 🙂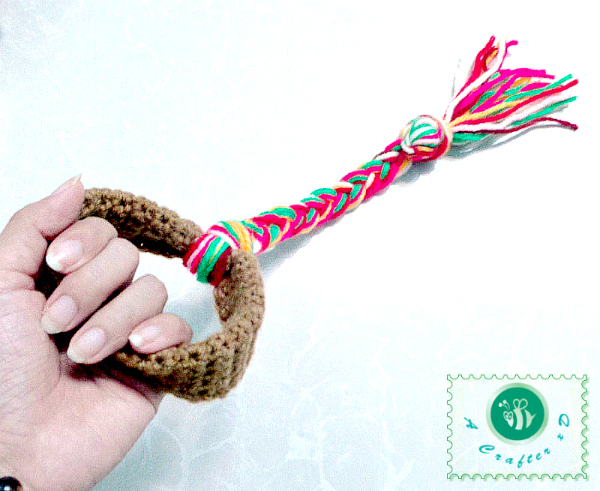 Click here to <3 this pattern on Ravelry
Materials: (I used)
5mm crochet hook
Worsted weight yarn: scrap yarn
Yarn needle
Scissors

Skill level: Easy
Pattern:
Handle: (pic: 1, 2, 3, 4) using 5mm crochet hook and brown yarn
R1: chain 11, sc into 2nd ch from hook, sc across, total 10 sts.
R2: ch1, turn, 10 sc across, total 10 sts
R3 to 44: same as R 2
R45: ch1, turn, 10 sc across, total 10 sts (fasten off)
Fold in half, seam with sc (pic.2)
Fold and seam 2 sides together (pic.3). Use yarn needle to weave in end. You've just finished a comfy handle. (pic.4)
Rope: (pic: 5, 6, 7, 8, 9)
Gather your scrap yarn, cut some strands of your desirable length (around 1.5 m) (pic.5)
Attach to the handle with a cow hitch knot (pic.6 and 7)
Divide your strands of yarn into 3 parts then braid (pic.8)
Simply tie 3 overhand knots at the end to create a big knot. (pic.9)

Now your handmade "Tug of War" dog toy is ready. Well, good luck if you have a big puppy with strong jaw xD
Written pattern and photos copyright Maz Kwok 2014. Please do not repost, republish or sell the content or photos as your own. You can sell the items you made from this pattern as long as you use your own pictures and give back proper credit. Please do share this pattern with others by link.  For more info, visit my Copyright page.