An easy and simple crochet woman hood based on Autumn forest theme for beginners to try. This crochet forest girl hood has a little sweet but wild scent, with strong colors choice you can easily create a taste of punk rock look.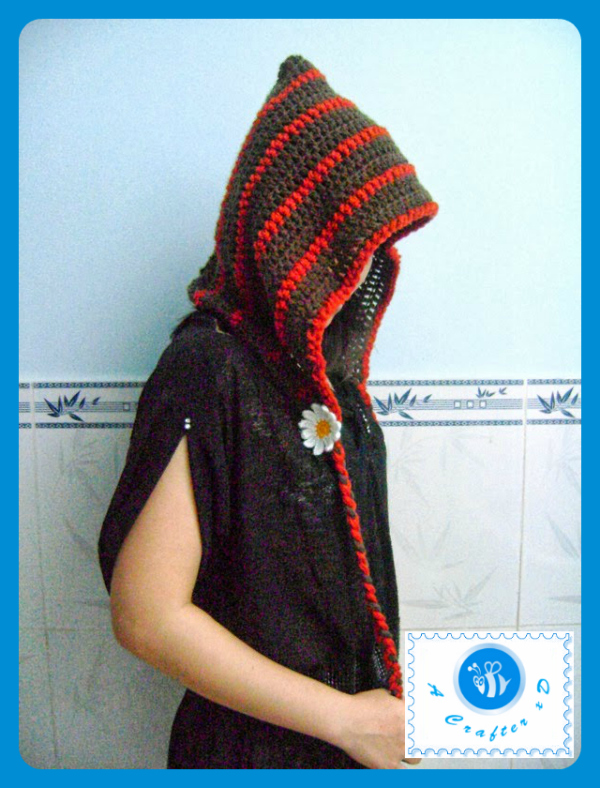 Click here to <3 this pattern on Ravelry
Materials: (I used)
8mm crochet hook
Worsted weight yarn: moss green and autumn leaf colors
Scissors
Yarn needle

Note: This is a free size pattern, adjust foundation chain,  increase or decrease the rows to get the size you wish.
Special stitch used: double single crochet
Instruction: insert hook into next stitch, yarn over and draw through one loop, you'll have 2 loops on hook. Yarn over again and insert the hook back into the same stitch. Yarn over draw another loop through the stitch, you'll have 4 loops on hook. Yarn over and draw through 4 loops at one time.
Hood:
Start with moss green yarn, crochet a chain of 75 cm, dc into 3rd chain from hook, dc across.
R1: turn, ch 2, dc into the same stitch, dc across.
(I used this technique because I don't like the gap when you crochet ch 3 as 1st dc for every turn)
R2 and R3: same as R1
R4: change to autumn leaf color yarn, ch 1, turn, double single crochet across.
Repeat 5 times from R1 to R4 (fasten off)
Seam the back with sc (wrong side)
Optional: hdc around the bottom border of the hat for a smooth look.
Make 2 braids with yarn.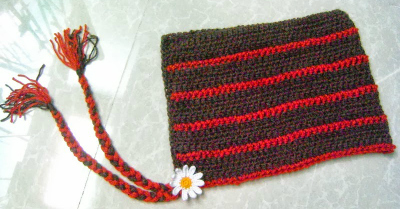 For the daisy applique, visit this post: https://beacrafter.com/crochet-daisy-applique/ (I used the small one)
Happy crocheting xD
Written pattern and photos copyright Maz Kwok 2013. Please do not repost, republish or sell the content or photos as your own. You can sell the items you made from this pattern as long as you use your own pictures and give back proper credit. Please do share this pattern with others by link.  For more info, visit my Copyright page.